Spider-Man Miles Morales is an 'expansion and enhancement to the original', Sony clarifies
Sony has clarified that Insomniac's PS5 Spider-Man game announced on Thursday is an "enhancement" of the PS4 original with a "substantial" expansion.
Announced during Sony's PS5 reveal event on Thursday, Marvel's Spider-Man: Miles Morales was described as "a new adventure from Insomniac Games," with little further detail offered.
However, in a new interview, The Telegraph describes Morales as "more akin to an expansion bolted on to an upgraded version of the original title."
Sony Interactive Entertainment's EVP head of European Business, Simon Rutter told the publication that Miles Morales would include "major enhancements" to the 2018 PS4 game.
"I guess you could call it an expansion and an enhancement to the previous game," he said.
"There's a substantial Miles Morales component – which is the expansion element – but also within the game as well there's been major enhancements to the game and the game engine, obviously deploying some of the major PlayStation 5 technology and features."
UPDATE: Insomniac Games has released a statement which says that Spider-Man: Miles Morales is a "standalone game." As yet it has not provided further clarification.
ORIGINAL STORY CONTINUES: Asked whether such familiarity was an important part of transitioning an installed user base from old machines to the new, Rutter said:
"I think what is very interesting for everyone to see is how familiar games might be to some degree changed through the workings of PlayStation 5."
Released in September 2018, PS4 exclusive Spider-Man was widely praised by critics and has now sold 13 million units worldwide, according to publisher Sony.
The huge success of the title contributed to Sony Interactive Entertainment acquiring California-based Insomniac Games, the developer also known for Resistance and Ratchet and Clank.
Significantly, SIE has been using Spider-Man to demonstrate PlayStation 5's new SSD tech.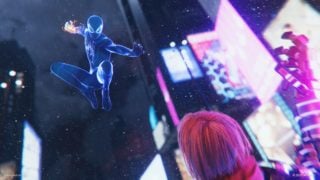 During its corporate strategy meeting in May 2019, CEO Kenichiro Yoshida showed a video comparing load times in Marvel's Spider-Man running on both PS4 Pro and its next-generation PlayStation hardware.
As described in the first PlayStation 5 details article, the next-gen PlayStation demonstrates dramatically reduced load times compared to PS4 Pro, with the camera able to fast travel near-instantaneously and speed through the city without pausing for asset loading.
Marvel's Spider-Man: Miles Morales will release for PS5 at the end of this year.